At the moment the brand offers two lines of clothing and accessories:
• Luxe • — expensive fabrics, intricate prints and dyeing techniques. The dress making process may take up to 5 hours.
• Simple • — basic clothing with silk decoration elements, preliminary dyed with plants.
All fabrics are hand-dyed solely with the plant material such as flowers, leaves, berries, roots and grains.
The same technique is applied to all accessories available on the website, no synthetic dyes are involved.
Clothes and accessories are made of natural fabrics like wool, silk, cotton and linen.
Each garment is full of love for nature but it doesn't necessarily imply that it belongs just to the ethnic style.
Garments are easy-matched and wearable.
The plant dyeing process with the use of flowers, berries and leaves is time-consuming and laborious.
It includes several steps:
At first, you should create a background with the plant brews that may include different plant material.
Sometimes this step can also have several stages.
Onward you can proceed by eco-printing.
It all may take from several days to months.
The Steps of the Dyeing Process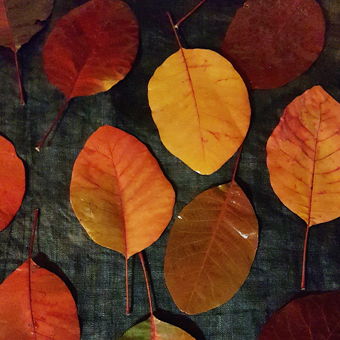 Before having it dyed any fabric should be prepared. That includes removing commercial finishes and treating fabric with a special soak to make it soften and have fibers ready for natural dyes absorption. The next step is to do plant brews that can be composed of oak bark, daisy flowers, fallen leaves, blueberries, beetroot, cauliflower, etc. These brews are getting infused and boiled for almost the whole day.
Onwards the fabric is dyed and treated with mordant to make the color enduring and do not let it wash out.
However, brews preparation is certainly preceded by constant collecting and foraging of the plant material. By winter, all herbs are dried and stored in special cases.
This step is often followed by eco-printing that is plant imprinting onto fabric. The eco-printing technique is unique, as any piece can't be repeated twice.
Firstly, it's required to thoroughly sort out plants, think over patterns and design of a whole garment (since you begin with cutting out clothes, then follow by dyeing separate parts and only then sew them together).
Farther the fabric is being treated as it was described above: flowers, leaves and berries are laid onto its surface. The fabric is rolled around a stick and boiled for 3-5 hours that is succeeded by leaving it to soak up to a day. The end result is always unique.
Each purchased item is wrapped up in a cotton bag with dyed silk pieces. The package also conveys a special scent and hand-written message from brand's creator and designer Ekaterina Kabanova.
Celebrating every little thing…